Rich in flavonoids, the oil has a strong antioxidant action, protecting all body cells from premature aging, while improving the appearance of hair, skin and nails. Among its benefits is the fight against aging due to anthocyanins, which can be found in red and purple vegetables, and promote natural antioxidant action, reducing the destruction of cells. Linoleic acid and oleic acid moisturize and nourish the skin, helping to maintain a healthier and smoother skin. In addition, acai oil stimulates the healing process by containing phytosterols. These act at the cellular level and are effective in treating dermatitis and conditions.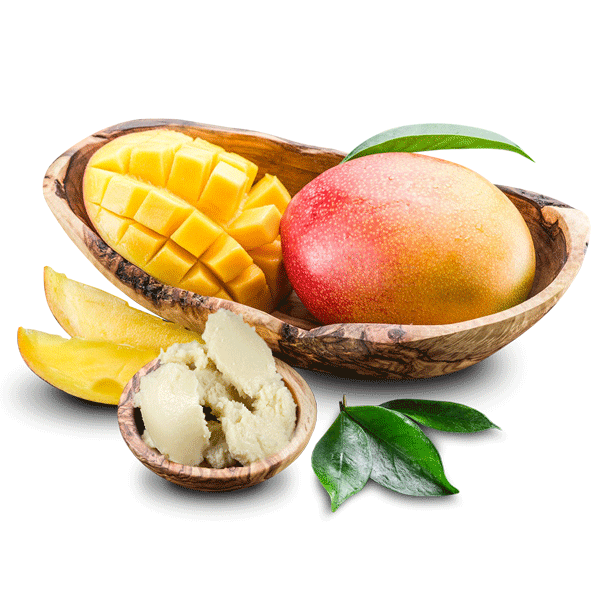 Mango butter, which is extracted from mango seed, is rich in essential fatty acids, especially oleic and stearic acid, and glycerides, which ensure softness, glossy and silkiness strands. Because of its compounds, mango butter is excellent for nourishing, repairing and recovering the hair. It also compensates for lipid loss in keratin, which fills the damaged parts of the hair fiber. It has antioxidant action, is emollient, humectant and helps to control the electricity of the hair strands.
Is a powerful antioxidant, highly recommended for cosmetic use, also for various purposes.
Green coffee is simply the coffee bean we already know, but before roasting. Green coffee oil, is extracted from these unripened beans and its use has numerous benefits.
Green coffee oil extraction is done by cold pressing. Although the oil content of green coffee beans is about 11%, the yield of this extraction is low, about 3%to 4% (amount of oil extracted by total weight of beans used).It is rich in unsaturated fatty acids, such as linoleic acid, which acts to cure dermatitis and relieve eczema. Fatty acids also promote skin hydration and protection against UV ultraviolet rays (rays with great influence on the appearance of skin cancer).
It is extracted from the seeds of an African tree of the same name. The characteristics of shea butter are mainly given by 4 fatty acids in their composition: stearic and oleic acids (85–90% of their composition), linoleic acid and arachidonic acid (This composition may vary by species and area. geographical origin). This all makes shea butter very rich and nutritious for skin and hair. It contains triglyceride fatty acids with high content of oleic (omega-9), stearic and linoleic (omega-6) acids, Vitamin A and vitamin E, acting as a natural antioxidant with anti-inflammatory properties. It is an emollient agent with excellent sensory properties due to the unique combination of triglycerides and fatty acids.
It is a nutrient that provides essential proteins to nourish and repair damaged hair. It is rich in lauric acid. It is able to keep hair strong, nourished, hydrated and protected from aging-related effects such as excessive hair loss and even baldness. Coconut oil also stimulates hair growth and promotes scalp health, as well as giving shine and smoothness to various types of hair.
Due to the large amount of phytosterols and vitamin E, avocado oil has many positive properties and can serve several purposes. The high concentration of beta-sitosterol gives avocado oil bactericidal, antiviral and anti-inflammatory properties.
The oil extracted from the avocado is also a great moisturizer for the hair. Provides hydration for dry and weak hair giving shine and softness. Helps in strengthening the hair by stimulating growth, in addition to reducing hair loss.
Rich in fatty acids and vitamin E, it's a great combination to make the strands nourished, light and soft. In addition, it contains soothing and regenerative properties that help stimulate growth. Olive oil also minimizes frizz, volume, split ends and helps prevention of hair loss. Because it has a natural composition, it is excellent for revitalizing strands that are chemically treated.
The dearest when it comes to hydration of the locks is certainly our Aloe Vera. It has numerous benefits for hair, including preventing and combing hair loss, deep hydration, hair growth and even treatment of seborrhea in the bulb, such as dandruff. Other nutritional components are:
• Water
• 20 minerals
• 12 vitamins (including A, C, E, B1, B2, B3, B6, B12 and B13
• 18 amino acids
• Enzymes
• Terpenes (a nutrient phyto which lowers blood sugar)
• Gliconutrients and Glycoproteins
• Polysaccharides (Acemannan, Mannose-6-phosphate, Polimannans, Phenolic Glycosides such as Dihydrocoumarins).
Soursop oil is rich in unsaturated fatty acids, oleic and linoleic acid, which are known for their antioxidant and regenerative action. Due to its antibacterial and astringent (anti-wrinkle) properties, as well as the presence of polyphenols, flavonoids and saponins, soursop oil is indicated in the treatment of parched skin and even in the treatment of psoriasis as it acts as a soothing, relieving itching and treating eczema and inflammation.
In hair, soursop oil potentiates the effects of moisturizing if used alongside treatment masks or can replace leave-in when styling. It forms a protective film around the strands that helps prevent water loss, leaving the strands moisturized, silky and easy to comb.
​
Our strands are basically made up of lipids and keratin which is a protein formed by amino acids and is produced by animals primarily for the formation of the structure of the hair and nail strands. As such, Keratin becomes an extremely important ingredient for hair care. If it is missing, then part of the basic structure of the hair is missing. Due to aggressions (coloring, sunlight, etc.), the hair strands end up losing this property. It is therefore important that the strands receive products that have this component in the formula.
​
Today it is possible to produce Hydrolyzed Proteins from Wheat, Soybeans, Rice, Corn and other cereals, where an amino acid composition can be obtained, forming a "Vegetable Keratin". Because keratin is healthy not only for hair, but for nails and skin, you can imagine the number of products that would benefit from the new version of keratin. In the hair Vegetable Keratin has the function of recovering the hair, bringing more strength, hydration and shine.
These are composed of amino acids similar to those that make up animal keratin. The penetrability is also the same as Vegetable Keratin has low molecular weight. We can say that the proteins derived from vegetables, maintain the same performance of the ingredient of animal origin, bringing life, shine and strength to the hair.
The only difference between the two is that Vegetal does not leave the heavy, unbalanced strands like the animal one.